Arts + Exhibitions
DEAG is committed to creating the greatest possible success for artists and their business relationships, while enhancing the live event experience for fans. Our approach is quality in everything we do, as well as a long-term commitment to our partners. DEAG's core business is the production, marketing and sales of live concerts, shows and entertainment spectacles. We approach each event individually and create additional value through our specialized and experienced European network. Over 40 years of successful promotion have created stability, synergies, professional structures and in-depth knowledge of national and international markets, which are used to the benefit of the artists.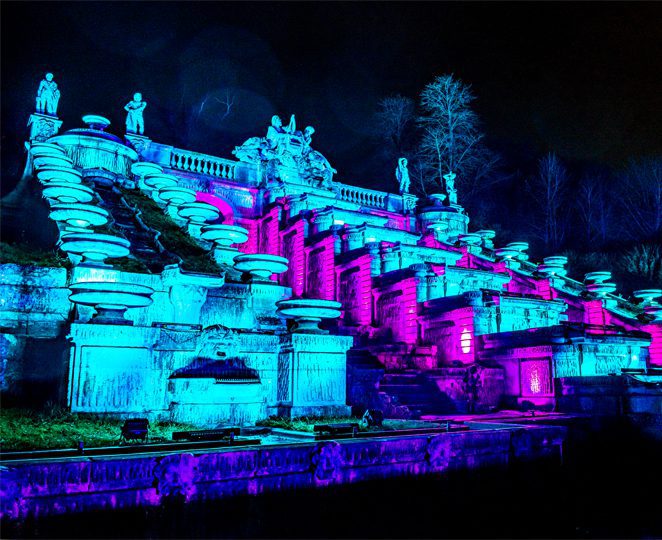 As twilight falls, the magic begins – and this is why exceptionally beautiful and mostly listed parks, zoos and gardens turn into glowing, mysterious landscapes at Christmastime. The Christmas Garden is an elaborate open-air audiovisual production that takes place between mid-November and early January at a variety of locations – some of which are UNESCO cultural heritage sites. Impressive architecture, the silence of nature and technically skilful light art are combined with specially composed music and soundscapes. A circular path of around two kilometres leads visitors through a world of inspiration, with numerous lighting installations and enchanting sound designs.
in 2016, the Christmas Garden celebrated its debut in Berlin and experienced an unexpected level of success. Due to the overwhelming response, further locations have been added over time, so that there is now a total of 18 locations in Germany, France, United Kingdom and Spain. In addition to the ten events in Germany, such as in Berlin and Stuttgart, the Christmas Garden can be seen in London, Paris, Barcelona, Málaga and Valencia, among other places. Around 1.9 million people visited the most beautiful and illuminated parks and gardens in 2021. Since 2016 the Christmas Garden has developed into a romantic highlight that captivates hundreds of thousands of people in wintertime.
Founded 1946 in Berlin as a traditional handicraft business, the company represents a successful lighting specialist led in the third generation by the lighting designer Andreas Boehlke. Electric installations are at the center of the business but new areas have also been developed. We offer various lighting concepts for any occasion such as for trade fairs or Christmas lighting in the City of Berlin, for example on Kurfürstendamm, and at locations across Germany. Light architecture as facade projections and video mappings augment the range by illuminating sights such as Brandenburger Tor, Unter den Linden, Berliner Fernsehturm and many more. Inspired by light art, Boehlke and others created the Festival of Lights and "Berlin leuchtet". International projects were performed with tradeshows of well-known car manufacturers in Geneva, Barcelona and Málaga or even with the extraordinary occasion "Lighting in Djibouti". We turn our passion for lighting technology into professional illuminations of every kind and colour. Cooperating with DEAG and the magical Christmas Garden has been the perfect addition and has become a highlight of our work.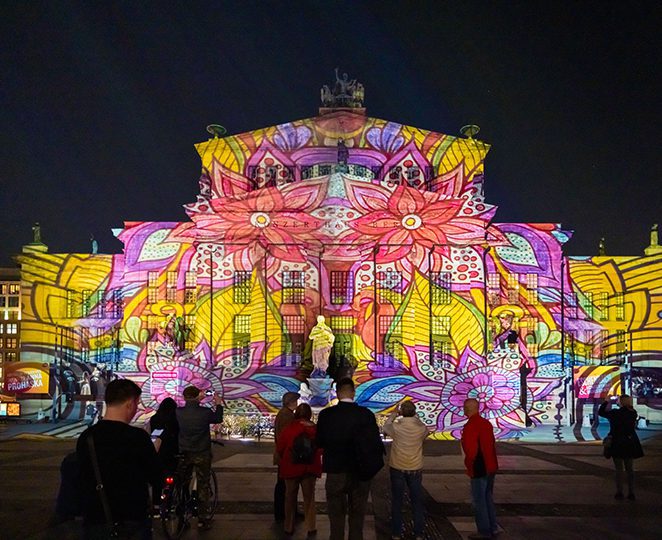 Presenting the world-famous exhibition "Nathan Sawaya's The Art of the Brick" in Hamburg, DEAG Arts & Exhibitions successfully started its operations. With more than 100 artefacts built out of more than 1 million Lego bricks and 2 million visitors worldwide, it is one of a kind!
DEAG Arts & Exhibitions presented "American Valhalla – Iggy Pop – The Art of Post Pop Depression" by photographer Andreas Neumann, including pieces by Matt Helders at its exclusive stop in Germany.In 2018/19, DEAG Arts & Exhibitions promoted the original "Harry PotterTM*: The Exhibition" at Filmpark Babelsberg, an exhibition which excites an incredible number of Wizarding World fans worldwide with its presentation of dramatic displays inspired by the Hogwarts* film sets and amazing craftsmanship behind authentic costumes, props and creatures from the films.
DEAG Arts & Exhibitions offers full-service promotion and organisation of exhibitions, providing local and national expertise thanks to the diversified network of the DEAG Group and beyond.
On two summer nights, Potsdamer Schlössernacht is celebrated with art and music, culinary delights and the enchantingly illuminated castles at Sanssouci Park, a UNESCO World Heritage Site. The historical buildings and the park with its fountains and waterworks set the stage for various artists- perfectly presented using spectacular light arrangements and opulent visuals.
Kultur im Park GmbH (KIP) is a joint venture between Concert Concept Veranstaltungs-GmbH, the nucleus of DEAG-Holding, and Mediapool Veranstaltungsgesellschaft mbH. Mediapool plans and realises technical concepts for events, trade fairs and exhibitions on behalf of Berlin institutions in the areas of culture, science and politics.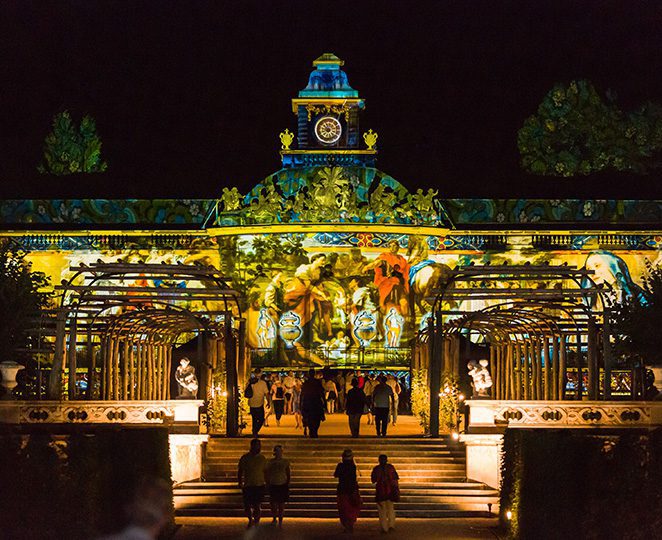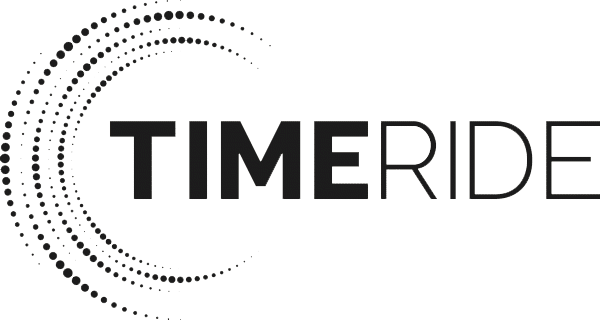 TimeRide GmbH was founded at the end of 2016 by Jonas Rothe in Munich. The vision was to turn the age-old dream of time travel into a reality. Each TimeRide is unique, but they share an overarching concept. As part of a guided exhibition featuring three different stages, visitors can journey back in time to a historical period that has come to characterise the city. in Cologne, you can experience the imperial age at the dawn of the 20th century. in Dresden, you can travel back to the year 1719, to the heart of the Baroque era. In Berlin, you can experience a divided city up close and travel along the Berlin Wall in a classic tourist bus from the sixties. At Checkpoint Charlie, you'll meet the harsh border guards and then drive through ailing East Berlin via Friedrichstraße, past the Brandenburg Gate and along Unter den Linden. In Munich, you can hop on the legendary, but never built, peacock carriage of Ludwig II. You will fly through the history of Bavaria: across Munich, to medieval Nuremberg, to the Fuggers in Augsburg, to Regensburg, over the Alps to Neuschwanstein. Embark on a thrilling journey through Frankfurt and experience the pulsating life in the Main metropolis on the threshold to modernity in the 19th century.